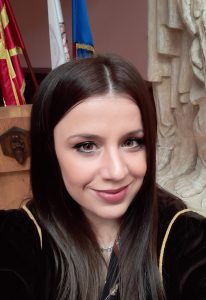 Aleksandra Rogleva
Assistant with PhD
Faculty of Law, UGD
https://www.ugd.edu.mk
Aleksandra Rogleva, PhD, teaching assistant in Criminal Law, Juvenile Criminal Law, International Criminal Law and Criminal Procedure at the Faculty of Law, University Goce Delcev – Stip. Rogleva has finished her Bachelor, LL.M and PhD Studies at the Faculty of Law "Iustiniaus Primus", St. Cyril and Methodius University in Skopje.
PhD thesis tittle: "Phenomenological characteristics of child sexual abuse with special reference to measures for prevention, treatment and protection".
Field of interest: Criminal law, Juvenile Criminal Law, Criminal Procedure, Victimology, Human Rights.