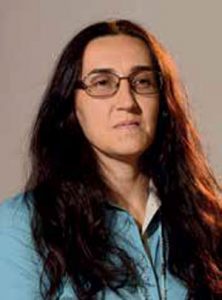 Eleonora Serafimovska PhD.,
Full professor
Institute for Sociological political and juridical research, University Ss. Cyril and Methodius
http://isppi.ukim.edu.mk/
Professor Eleonora Serafimovska (1971) works in State University "Ss.Cyril and Methodius", Institute for sociological, political and juridical research, Skopje, Macedonia since 1996. She has PhD in communication and MSc in political psychology, teaching Communication theories, Psychology of new media and Cyber psychology. Her scientific interests in domain of mass media and media psychology included text analysis, aggression in social networks, personal identity in cyber space.